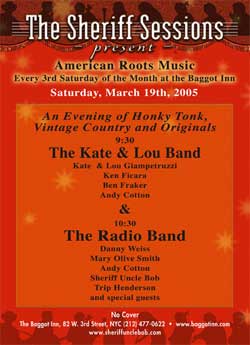 Thanks to everyone who came down to my show with Mike Skliar at the Parkside — we had a great time and we hope you did too. If anyone didn't get a CD, you can buy them online.
We haven't (yet) scheduled any New York City shows between now and our Toronto gig in late April, but we will be in the studio working on a duo CD of all-new material, including "Cloud of Ink" which debuted last night, and much more.
And yet more music!
Saturday night I'll be playing with Kate and Lou again, as part of a special Sheriff Sessions show. For those of you without cars, this show will be much easier to get to than Red Hook, where I usually play with Kate and Lou. If you've never seen them, you have no idea what you're missing: They are veterans of the bluegrass/old-time scene in New York City, and two of the nicest people you'll ever meet. Lou plays guitar, mandolin and (literally) wrote the book on contemporary accordion, and Kate is an astonishing singer. Their music ranges from traditional American country, bluegrass and blues to Cajun music to sophisticated jazz originals. Following us will be the Radio Band, featuring an all-star lineup of NYC roots players. And with no cover charge at all! It'll be a great evening. As usual, details are on my site.