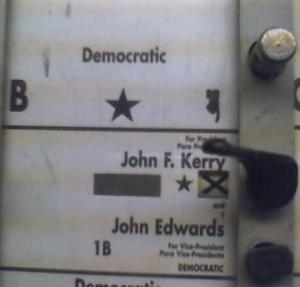 My polling place was mobbed this morning; I was the 162nd voter in my election district. In the primaries, I was the 11th. Let's hope this is happening in states where it matters!
My big disappointment was not being able to vote in the bizarre race in the 57th Assembly District. Roger Green, who resigned the seat in disgrace four months ago for illegitimate expense reimbursements, is running for it again. And the party organization redrew the lines so that Hakeem Jeffries, who lives a block away from me and nearly knocked Green out of his seat in the 2002 primary, is no longer in the district. So rather than voting against Green, I got to vote for Park Slope's assembly person, Joan Millman.
Voting against Green would have meant either pulling a Republican lever or writing in a Green Party candidate, Susan Metz. As disgusted as I am with the Green Party's work on Bush's behalf, I probably would have voted for her, because I like her on the issues, and voting on misguided principal rather than common sense is what caused the 2000 mess in the first place.